Services
Using our experience in strategic communication and systemic design, we accompany and advise organisations in making their teams and business more resilient and sustainable.
Sustainability
Through workshops and consulting we support you in making your organisation more sustainable: Understand the key facts and concepts, recognise important levers and opportunities for your organisation, develop ideas and decide where to start.

Reflect challenges and opportunities
Develop a sustainability strategy
Communicate your climate & sustainability efforts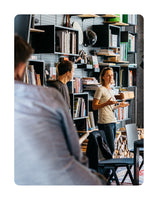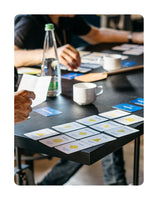 team culture
Sustainable change starts with an awareness of shared values ​​and strengths. Through workshops and consulting, we support you in understanding the importance of these issues for organisational culture, team development and employee motivation.
Reflect personal values ​​and superpowers
Mirroring and self-reflection in teams
Develop team and organisational values
Strengths-based leadership and team development
Toolkit training
In our training for coaches, managers, HR, CSR or innovation specialists, we support you in using the Purpose Cards toolkit to the best effect in your organisation.

»It's not easy to find the right balance of input and practice, broadening of horizons and applicability. You hit the mark with your training! The cards are a great trigger for important conversations.«

Martin Stelter - On Purpose Associate
»The workshop helped me to introspect what's important to me as I work in my company and allowed me to stand in my colleagues shoes and see what they think is important, both for them and for the team itself.«

Vishnu Chaitanya—Auxolar
Who we work with
We work with value-driven companies, startups, non-profit organisations and universities.

Drop us a message